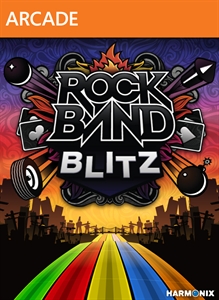 When you look at the track record of quality that Harmonix has, you can hardly doubt that their next game in the rhythm genre will be a good time.  Rock Band made playing plastic musical instruments a household phenomenon in America, and Dance Central showed us that the Kinect sensor could be used to teach us wallflowers how to dance (a little, anyway).
But I couldn't help but be skeptical about Rock Band Blitz (RBB) as it neared release.  C'mon, a rhythm game where you play the part of musical instruments with a regular gamepad?  It sounded a little hokey.  Then I got my hands on it and I forgot about all the doubt, mostly because RBB had me so busy pressing buttons and having fun to remember any of the concerns I had previously.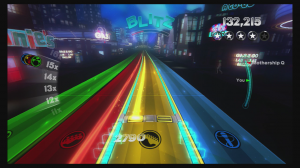 Gameplay
RBB is a different type of game than Rock Band.  Sure, it bears some similarities:
green, red, yellow, blue, and orange colored lanes
hitting buttons in time with the music
a brilliant mix of songs both new and old to groove to
power ups (a la Star Power) to increase your score
Still, this is a different experience than what you may be used to in a Rock Band game.  The five lanes represent music tracks (drums, bass, guitar, vocals, keyboards).  You can only actively play one track at a time.  There are only two possible "notes" to play in any lane, unlike Rock Band where you have five.  As you play an instrument track, you build up a score multiplier for that instrument.  But there is a catch, you must level up your multiplier for each instrument in order to raise the cap.  This is done by passing through checkpoints.  So, if you have four instruments at 4x and one at 3x, you will increase your cap to 6 and your minimum to 3.  As long as you can keep leveling the lanes together you can keep increasing your multipliers.  I told you this was different.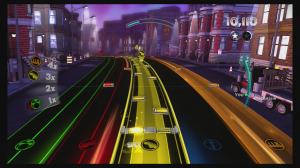 Having only two buttons per lane might seem overly simplified, but when you are trying to bounce from drums to vocals, back to the bass then quickly to the guitar for that rippin' solo, you will forget about simple.  RBB will keep you busy, because on top of all that, you have custom power ups.
These introduce an element of strategy that we don't often see in rhythm games.  Rock Band Blitz has you choosing from simple two times multipliers to bomb notes that blow up and take out all the surrounding notes and giving you the value of each one.  You can call in help from an AI band mate that will play one track for you as you go play another and reap the score from both tracks simultaneously.  As in other Rock Band games, playing the white notes gives you energy towards your overdrive meter and once you build it up, you can unleash a power up to rack up the points.  There are 16 unlockable power ups to choose from and you can pick one from each category (overdrive power up, note power up, track power up).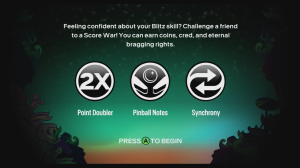 Ahhh, but to use these power ups, you are going to need to earn them by completing songs.  At the end of the song you will receive two types of currency.  You get Coins for purchasing you power ups, which can be used only for the next song, and you get Blitz Cred for unlocking other power ups.
Graphics
You don't play rhythm games for the graphics, but I will say that I enjoy the look very much to RBB.  The instrument lanes, side by side, form a "road", and the song takes you over crests and valleys to add a little motion to the experience.  There is some peripheral activity on the sides of the road, but you will likely not notice it if you trying to get a decent score.  Still, the care that went into the looks is not unnoticed and it's probably the most pleasant visual experience in a Harmonix game yet given the prominent use of bright primary colors and the contrast of lights and darks in the background.
Sound
First off, here is the track selection:
| Song | Artist |
| --- | --- |
| "A Little Less Sixteen Candles" | Fall Out Boy |
| "Always" | Blink-182 |
| "Cult of Personality" | Living Colour |
| "Death on Two Legs" | Queen |
| "Diamond Eyes (Boom-Lay Boom-Lay Boom)" | Shinedown |
| "Give It Away" | Red Hot Chili Peppers |
| "I'm Still Standing" | Elton John |
| "Jessie's Girl" | Rick Springfield |
| "Jungle Boogie" | Kool & the Gang |
| "Kids in the Street" | All-American Rejects |
| "Metal Health (Bang Your Head)" | Quiet Riot |
| "Moves Like Jagger" | Maroon 5 |
| "Once Bitten, Twice Shy" | Great White |
| "One Week" | Barenaked Ladies |
| "Pumped Up Kicks" | Foster the People |
| "Raise Your Glass" | P!nk |
| "Shine" | Collective Soul |
| "Shout" | Tears for Fears |
| "Sing" | My Chemical Romance |
| "So Far Away" | Avenged Sevenfold |
| "Spoonman" | Soundgarden |
| "Stronger (What Doesn't Kill You)" | Kelly Clarkson |
| "These Days" | Foo Fighters |
| "We Are Young" | Fun. feat. Janelle Monáe |
| "The Wicker Man" | Iron Maiden |
I have to say that Harmonix has their finger on the pulse of what is good music to interact with. There are songs in this game I wouldn't listen to, ever, if not for the fact that I get to press buttons in time with the beat. Yet somehow, as I am listening to these songs, I am truly listening, and I love what I hear. Harmonix makes music games. Ultimately, their games are a celebration of sound and music. Every button press is associated with some element in the music, some are obvious rhythms, some more nuanced like the breath at the end of a vocal phrase. It shows how much the folks at Harmonix care about representing music as something more than simply a catchy chorus or a memorable groove. Music should be dissected and digested, and by having the 5 instrument parts running parallel, you are able to focus on one part at a time, and before you know it you have listened to "One Week" five times in a row, and you still aren't bored because you heard something new each time. That's cool stuff.
From a technical standpoint, the neatest part of the sound is the way the active lane is given a volume boost, so you really feel like you are bringing that sound to the forefront. This happens dynamically, so if you are playing the drum lane, you hear the beat loud and proud over the rest of the tracks. As you switch to the guitar, the drums blend in the background with the other instruments as you play that riff and let it shine.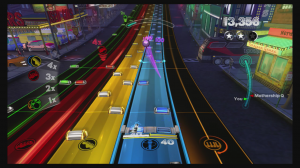 Other Thoughts
There is no real-time multiplayer component to RBB at launch, though I could imagine incorporating it as DLC or with a title update at some point. There is however a very cool social networking integration that I hope we will see more of from other game companies in the future. In RBB you are given the ability to link your gamertag to your facebook account and participate in community activities. You can challenge friends to score battles and pick up bonus coins for doing so. This asynchronous multiplayer gives longevity to the game and is welcome for those of us who have facebook accounts.
You should also know that you can play your Rock Band 1, 2, and 3 songs in RBB.  This means instead of the 20 something songs included with the game you have potentially thousands of songs to play, available from the Rock Band Store.  Also, your RBB songs will work in Rock Band 3 so you can use your plastic instruments to jam on these new tunes if you so desire.
The Big Finish
As an avid gamer and a music lover, it's hard not to appreciate what Harmonix has done here.  They have once again fused my two favorite entertainment mediums and challenged my coordination in one rock-fisted punch.  The social elements are an exciting glimpse of the potential to bridge our facebooking and our competitive gaming.  If you were waiting for a fresh new way to experience music, it's here.  Grab the demo and try it for yourself.  And I am off to try One Week one more time.

Four and a half out of Five
Similar Posts: