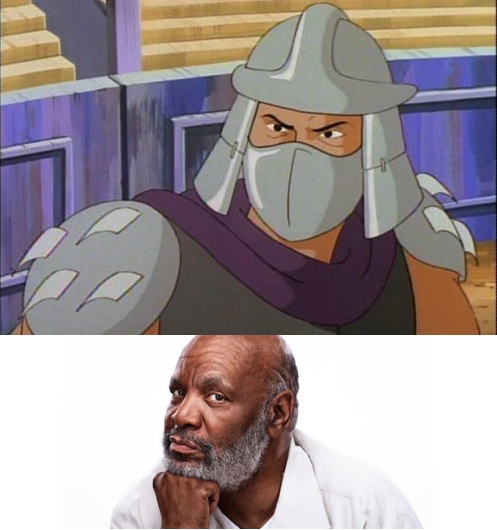 The Shredder has died. As the leader of the Foot Clan he provided no shortage of obstacle and offense to The Teenage Mutant Ninja Turtles over the years. His very personal battle against Splinter and the boys was seemingly never ending and while he was indeed evil and a villain of the highest order his focus and drive could not be disregarded. He was a bad guy, but without the bad guys our heroes could not be heroes.
In all seriousness on December 31st we lost actor James Avery. Best known as Uncle Phil on The Fresh Prince of Bel-Air, he was also a talented voice actor who provided the crackling growl of Shredder on the TMNT cartoon from 1987 to 1993. I couldn't wait to get home from school each day to watch the Turtles battle Shredder and Krang. It was a show that helped shape my love of fantasy and comic books and Avery was a part of that.
I am saddened by any death but there is an added feeling of somberness attached to those whose creative talents connect with us. A song. A poem. A curse upon Splinter for daring to fight back. Thanks for giving us what you had and entertaining us repeatedly Mr. Avery. May Shredder finally know victory elsewhere.
James Avery also provided the voice of Jim Rhodes/War Machine on the early 90's Iron Man cartoon, had recurring roles on Amen, Beauty and the Beast & That 70's Show along with playing the title character on the short lived late 90's series Sparks.
Pick up some of Avery's best from Amazon at the links below.
[easyazon-image align="none" asin="B00CPEI0A6″ locale="us" height="122″ src="http://ecx.images-amazon.com/images/I/61KJOfVdKGL._SL160_.jpg" width="160″]
[easyazon-image align="none" asin="B0007NFMCG" locale="us" height="160″ src="http://ecx.images-amazon.com/images/I/51w9BWSejSL._SL160_.jpg" width="113″]
[easyazon-image align="none" asin="B000BQ7J9I" locale="us" height="160″ src="http://ecx.images-amazon.com/images/I/51XHHR3ZKTL._SL160_.jpg" width="112″]

Similar Posts: