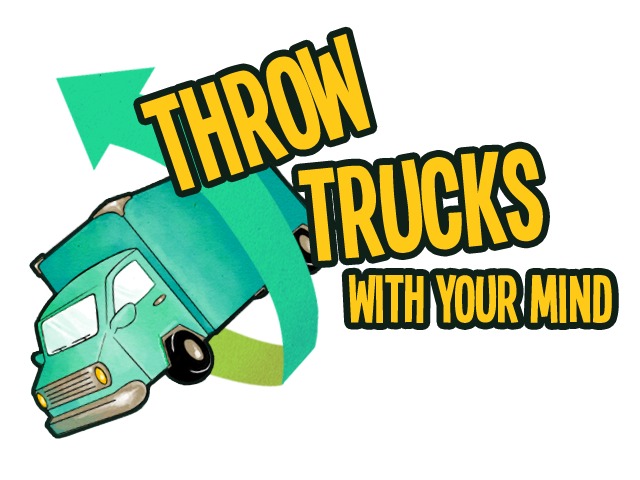 Crooked Tree Studios announces that 'Throw Trucks With Your Mind', a multiplayer first-person "gunless shooter" that uses EEG technology to measure players' brainwaves, will go into production following the conclusion of its KickStarter campaign on March 14th.
Using an inexpensive, wireless headset, players are able to move virtual objects on screen by concentrating or by relaxing. Crooked Tree's one-level prototype has already demonstrated that the concept works between two players, and the project will enable up to 32 LAN or Internet-connected players to fight each other with their thoughts in a multilevel environment.
A demonstration of the technology is available through the Los Angeles Times Web site: http://www.latimes.com/business/technology/la-fi-tn-mind-games-how-brain-waves-control-a-video-game-20130307,0,5050953.story
Depending on the strength of players' beta waves (emitted while concentrating), players toss small items like crates or catapult objects like trucks. Players can also draw things toward them by relaxing (and emitting alpha waves). Greater relaxation results in more power as well.
Plans call for original artwork, animation, music, sound effects, physics enhancements, and an array of whimsical characters and environments. Once released (between October 2013 and March 2014), KickStarter backers who donate USD $25 or more will receive copies of this fully-realized mental combat simulator for PC and Mac, and sales to the public will begin at a price to be determined. 'Throw Trucks With Your Mind' will use any USB controller to position avatars and select whether players throw or attract objects.
To date, no mass-audience, brain-powered video games are available to consumers, but the success of Throw Trucks could lead to stronger demand for neural feedback games worldwide and rapid development of this technology.
Lat Ware, the game's programmer and team leader, hopes that successful KickStarter funding will draw the attention of venture capitalists who see the potential of neurofeedback games as a new entertainment platform for mass audiences. According to Ware, "Once investors see how enthusiastic people become when they actually play Throw Trucks, I think they'll realize the possibilities, especially as the price of the headsets declines and the capabilities of the headsets improve."
Ware is a veteran of the games industry, having programmed for Champions Online, Star Trek Online, and All Points Bulletin, and he is a graduate of Digipen Institute of Technology. Other team members include Lynda Miller, character artist; Caspian Priebe, environment artist; Kiyome Provost, and technical artist; Matt Olch, animator.
'Throw Trucks With Your Mind' can be found on KickStarter here:
http://www.kickstarter.com/projects/1544851629/throw-trucks-with-your-mind

Similar Posts: