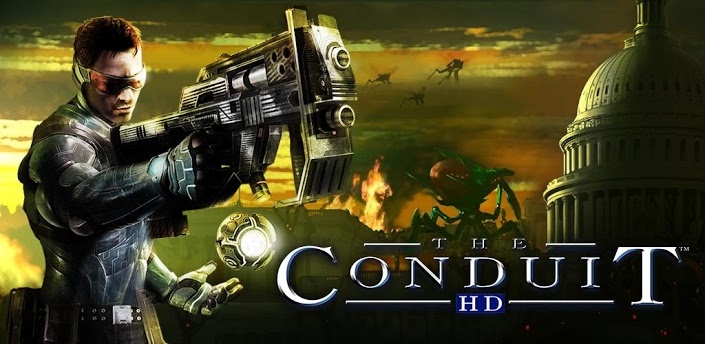 High Voltage Software, Inc., the independent developer behind such games as The Conduit and Conduit 2 for the Nintendo Wii, announced today the release of The Conduit HD™, an updated version of The Conduit, optimized for NVIDIA® Tegra® 3 quad-core devices.
Washington D.C. is embroiled in chaos, and Secret Service agent Michael Ford finds himself caught in the middle of it all. In a matter of days he is recruited by a mysterious organization, gets mixed up with conspiracies dating back hundreds of years and finds himself battling a full scale alien invasion armed with strange devices and high tech weapons.
Offering an enhanced version of the single player campaign from the award-winning first person shooter, The Conduit, The Conduit HD has been optimized for use with NVIDIA Tegra 3 quad-core devices. Featuring high resolution graphics, innovative touchscreen controls and gameplay that has been rebalanced for tablet play, The Conduit HD offers a full-sized first person experience in a portable package.
Now a whole new audience can help Michael Ford stop an invasion, solve an ancient mystery and discover his true destiny. But first, they need to figure out who they can trust…
"The team really amped up the assets for a true 720p experience and now it looks even better than the console version!" said Bill Rehbock, General Manager, Mobile Games, TegraZone. "It sets the bar for what can be done with the NVIDIA Tegra 3."
"Our goal with The Conduit was to bring a hardcore game experience to a 'casual' market." said Kerry J. Ganofsky, CEO and founder of High Voltage Software. "I believe we've reached that goal again with The Conduit HD!".
"Old and new fans are going to be blown away by how great this new version is." stated Eric Nofsinger, Chief Creative Officer of High Voltage Software. "Between the new control system, upgraded graphics and rebalanced play experience, it's like a whole new game!".
The Conduit HD is now available for Android devices. The first two levels are free, the full game is $4.99, or each half of the game can be purchased separately for $2.99 each.
https://play.google.com/store/apps/details?id=com.highvoltage.theconduit

Similar Posts: