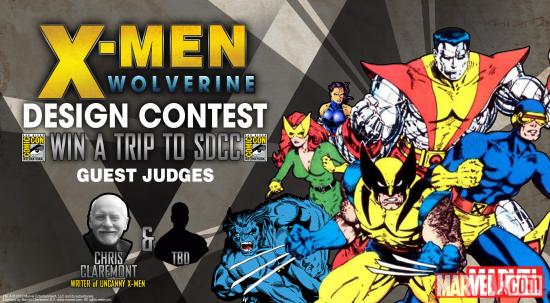 For decades the X-Men title has been one of the most complex, richly written and engaging in Marvel Comics' lineup of titles, and the enduring mutants- both good and evil–in the franchise remain some of the most popular in WeLoveFine's Marvel catalogue. So it is with great pride that they announce the X-Men & Wolverine Design Contest, opening for submissions on February 5!
Two major factors of the X-Men & Wolverine Contest–which are not only newsworthy, but will be of great interest and excitement to fans of the title as well as the artists who will be entering–involve the first guest judge and the grand prize:
WeLoveFine is honored to welcome the legendary comics writer Chris Claremont on board as their guest judge for this contest! Chris's contributions to the title are arguably the most celebrated and popular in its long history, including Days of Future Past which will be the basis for the next X-Men feature film; and he is responsible for the creation of some of the best-loved X-Men of all time.
WeLoveFine is also thrilled to be offering a very special prize for the top-rated design as voted by the fans for this contest: the Grand Prize winner will receive a trip to San Diego for Comic-Con International, July 18-21! This is a first for WeLoveFine's contests, and hopefully a real treat for the designers entering to try for a chance to attend the year's biggest comics mecca!
ABOUT THE CONTEST
They are the marvelous mutants you have known and loved for decades, in so many incarnations and incredibly memorable storylines, from the page to the screens both small and large. And now WeLoveFine is thrilled to announce their latest design contest featuring Marvel Comics characters is all about those uncanny X-Men! The teachers and students of Professor Xavier's school for gifted youngsters and their ongoing struggle for acceptance and peace–in the face of mighty foes, lead by Magneto's Brotherood of Evil Mutants–has inspired some of their best-selling designs here at WeLoveFine…and now it's YOUR turn to design for these classic, beloved characters! The ever-popular Wolverine, fan-favorite heroine Jean Grey, the enigmatic and powerful Magneto: who will inspire you to create a prize-winning t-shirt design? Go for it, artists: You could win up our amazing grand prize of a trip to Comic-Con International 2013, and have your tee made into official Marvel merchandise! Go forth, and be astounding!
ABOUT THE GUEST JUDGES
Chris Claremont has encountered more success than most writers ever dream of. His stories have achieved best-seller status, won numerous awards, and are trend-setters for the industry. Although best known for his work on Marvel Comic's X-Men series, where he created the characters of Rogue, Gambit, Sabretooth, Kitty Pryde and the White Queen, amongst others, he has also written seminal characters such as Batman and Superman; originated several creator-owned series; is published throughout the world in many different languages; authored nine novels. His papers are collected at the Rare Book and Manuscript Library of Columbia University, in New York. He has spoken at Princeton, MIT, and Columbia University, appeared on television in the US and abroad. His work has touched millions.
Second Guest Judge TBA
THE RULES
-Submissions must be received by 11:59:59 PM (PST) on March 5, 2013.
-You may submit up to 5 entries per person
-All entries must be in one of the following file formats: GIF/PNG/JPG.
-By entering the contest ("Promotion"), you indicate your full and unconditional agreement to, and acceptance of, (a) the Official Rules and (b) Mighty Fine's ("Sponsor") decisions, which are final and binding. Winning a prize is contingent upon fulfilling all requirements set forth herein.
– Likenesses of any actors who have portrayed X-Men characters in any movie adaptations CANNOT be used in the design.
– All entries MUST incorporate one or more of the following characters: WOLVERINE and/or CYCLOPS, PHOENIX, STORM, MAGNETO, COLOSSUS, BEAST and PSYLOCKE. No other characters may be used in the design.
Similar Posts: