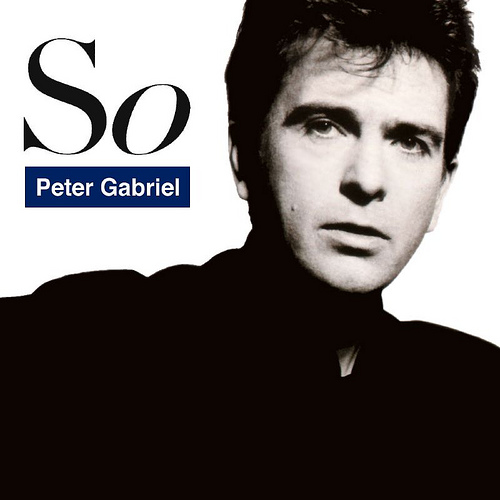 So is generally regarded as a peak in Peter Gabriel's recording career, notable both for its solid set of songs and lush production. For Gabriel, who'd been putting his music in theatrical contexts ever since his days with Genesis, the modern sound of So (coproduced with Daniel Lanois) was a dramatic conceit that effectively played off the organic roots of many of its songs. The album's big hit was "Sledgehammer," the English rocker's somewhat stilted take on the Stax/Volt style of rhythm & blues. Gabriel is much more powerful on his own art-rock songs, such as "Red Rain," which evokes nuclear ruin with its cascading rush of guitars and synthesizers. "Don't Give Up" is perhaps Gabriel's best ballad, with Kate Bush's heavenly second vocal enough to give anybody encouragement. But the song that best exploits So's blend of technology and soul is "In Your Eyes," a beguiling rhythmic tapestry in which Gabriel duets with Youssou N'Dour.
Check out the video below to learn more about the evolution of the songs from So.
Get the Immersion Box Set, The Deluxe Edition or the Blu Ray at the links below.
[easyazon-image align="none" asin="B008BSPQ3E" locale="us" height="92″ src="http://ecx.images-amazon.com/images/I/41tvGYtuB6L._SL160_.jpg" width="160″][easyazon-image align="none" asin="B008V59AFW" locale="us" height="89″ src="http://ecx.images-amazon.com/images/I/51N3S0MGTiL._SL160_.jpg" width="160″][easyazon-image align="none" asin="B008N5UX5Q" locale="us" height="160″ src="http://ecx.images-amazon.com/images/I/510NFU2in5L._SL160_.jpg" width="125″]

Similar Posts: