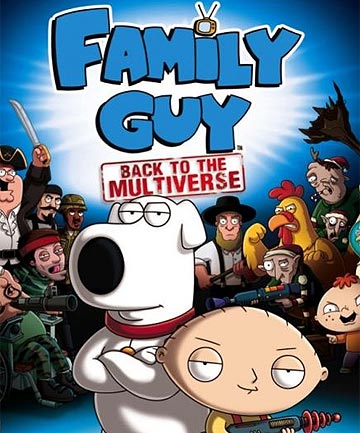 "Family Guy: Back to the Multiverse draws inspiration from 'Road to the Multiverse' – one of the most popular and notable episodes in the Emmy Award-winning series," said David Oxford, Executive Vice President and Activision Publishing. "This episode provides an amazing backdrop for introducing Family Guy's hilarious brand to today's consoles."
Written by Family Guy talent, Family Guy: Back to the Multiverse features an all-new original narrative that is an expansion on the popular episode, "Road to the Multiverse". It turns the outrageous world of Family Guy into an action-packed video game filled with nods to the long-running comedy. Playing as either Stewie or Brian, each with unique abilities and weapons, players will battle their favourite Family Guy characters as they advance through 'Multiverse' themed levels in their pursuit to battle Stewie's evil twin, Bertram, who has returned and is hell-bent on destroying Quahog. Fans will also be able to team up in co-op multiplayer mode or compete against each other in competitive multiplayer levels – all with a Family Guy twist.
Family Guy is one of the most-watched and influential shows of the last decade, reaching over 33.5 million viewers weekly in the U.S., and is the number two TV show on Facebook with more than 45 million 'likes'. In the U.S., the series is the number one TV franchise on DVD with more than 25 million copies sold. The new console game from Fox and Activision intends to tap into the core components of the Family Guy spirit.

Similar Posts: