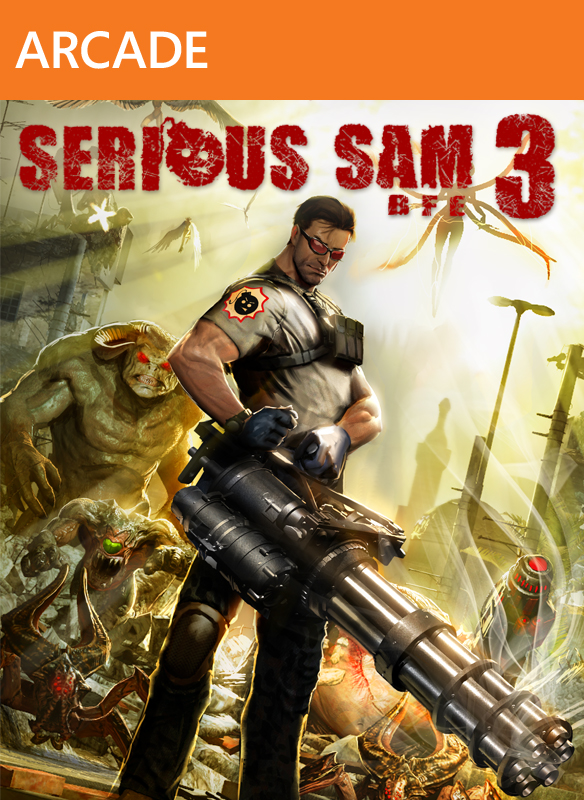 I love the Serious Sam games. They are a level of ridiculousness that was ahead of its time and embody a lot of what is the absolute best when it comes to video games. Story was minor and the protagonist is simple and over the top in all the right ways. Give him a bunch of guns and unleash hordes of enemies and there ya go. It had a few surprises along the way and ended up as a memorable moment in my video game playing history. Here comes the new sequel. Get some.
Croteam, Devolver Digital and Mastertronic have announced the brutal first-person shooter Serious Sam 3: BFE will launch worldwide via Xbox LIVE Arcade on October 17th.  Developed by series creator Croteam, the Xbox LIVE Arcade version of last year's breakthrough arcade-style shooter has been painstakingly converted to take full advantage of the Xbox 360 and Xbox LIVE to deliver an unparalleled Serious Sam experience on the home console.
"Ever since we announced Serious Sam 3: BFE our fans have asked us to bring the game to Xbox LIVE Arcade," said Davor Hunski, Chief Creative Guy at Croteam. "Boom. Done."
In just one week, Serious Sam fans around the world can download Serious Sam 3: BFE on Xbox LIVE Arcade for 1200 MS Points which includes the ginormous single-player, online cooperative, and spilt-screen cooperative campaign modes. The brand-new Serious Sam 3: Jewel of the Nile campaign expansion and all multiplayer versus modes like Deathmatch, Capture the Flag, Last Team Standing and My Burden will be available at launch and priced at 1200 MS Points.
With 25 savage achievements, multiple leaderboards, and local split-screen cooperative play, Serious Sam 3: BFE has been tuned and perfected for its debut on Xbox LIVE Arcade.
"Awesome, now I can go from getting absolutely annihilated by some loudmouth with a mouse and keyboard to getting annihilated by some loudmouth with an Xbox 360 controller," said Fork Parker, Devolver Digital CFO. "Damn these silky smooth thumbs."
Check out the launch trailer for Serious Sam 3 below.
Similar Posts: