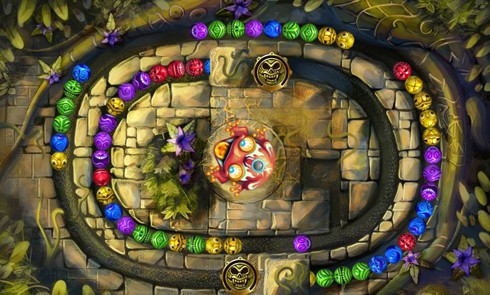 PopCap Games, a worldwide leader in mobile and social games and a division of EA, today announced the launch of Zuma ® Blitz: Kroakatoa Island, a major reinvention of one of the company's most successful social games on Facebook.  Capitalizing on all the 'ribbeting' fun and game content found in the original Zuma Blitz, this next generation of PopCap's popular franchise offers an entirely enhanced adventure with an expanded game board, 110 progress levels, explosive new power-ups, and powerful new player abilities. The game has been in beta testing for several weeks and is now available to all Facebook players.
"We've put a great deal of thought and energy into making the Zuma Blitz experience even better on Facebook, and the result is Zuma Blitz: Kroakatoa Island," said Scott Willoughby, Zuma Blitz franchise manager.  "PopCap has significantly ratcheted up the fun factor with a more dynamic, expansive game board, dozens of new levels, two new power-ups, and a variety of cool new abilities that we believe will make the game more accessible and appealing to virtually all Facebook users, not just the 15 million who've played the original Zuma Blitz."
Zuma Blitz: Kroakatoa Island lets players discover the hottest Zuma Blitz experience yet as they take on Facebook friends and blast balls from their fearless frog.  Players will enjoy new and enhanced features as they race the clock and destroy the chain of balls before it reaches the golden skull, while devouring island delicacies to score big, unlocking explosive new power-ups, and leaping up the leaderboard.
Key Features
◊    Collect Stars and Progress through 110 new levels of ball-blasting adventure
◊    Choose from 10 explosive Powers, including all-new Color Nuke and Wild Ball
◊    Select island "Treats" for an extra boost with the game's all-new food system
◊    Share gifts and Life with Facebook friends to enhance your adventure and theirs
◊    Enjoy smoother, faster gameplay for the best "Zuma" experience yet
◊    Use the all-new Shot Aimer to sharpen ball-blasting skills
◊    Unlock powerful Spirit Animal Monuments
◊    Track your friends' stats on the leaderboard
◊    Compete in weekly tournaments
Head to the following link to play this game on Facebook:
Check out the trailer for Zuma Blitz: Kroakatoa Island below.


Similar Posts: