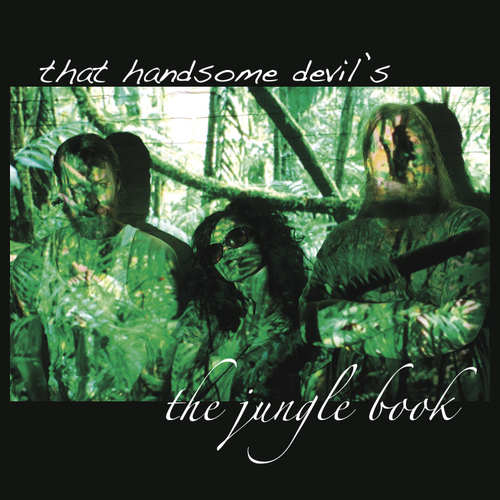 A multitude of high fives to you if you're a fan of That Handsome Devil. If you are unaware of them then you should know that they are one of the best bands you have not heard of. Let's remedy that shall we. I first heard of them while playing Guitar Hero 2. Their song "Elephant Bones" was one of the bonus tracks and I got very good at playing it due to my desire to hear it over and over. They are a fantastic band which blend elements of Rock, Funk, Rap, Soul, Jazz, Surf, Rockabilly and more. They dive into an ocean of all genres, come running out of the water and proceed to shake off what they don't want and pour the rest into song. Singer and co-founder of That Handsome Devil, God Forbid has referred to the band as Fringe Pop and that seems like as good of a name as any. He has one of the coolest voices around and weather it be his rhythmic, rapping, spoken word approach or singing away he makes the already fantastic music complete.
They recently completed a new album called The Jungle Book which they are giving awat. Yes, they are giving it away for the freeness to their loyal fans and as one of them I say….Hey…Thanks guys….You're all kinds of alright. If you're a fan be sure to go and get yours and if you're a fan in the making go grab your copy as well and make that upgrade to full fledged fandom. They are the goods and more people need to hear what they create and know who they are. Get your copy of The Jungle Book at the link below and then head to the other link to like them on Facebook. They have a lot of great music and multiple albums available so get to listening. They might just be your new favorite band and you don't know it yet.
That Handsome Devil – The Jungle Book
That Handsome Devil on Facebook
Oh and check out this cover of Mr. Grinch by That Handsome Devil.

Do yourself a favor and get copies of previous That Handsome Devil albums at the link below.
[easyazon-image align="none" asin="B0010S2DZ6″ locale="us" height="160″ src="http://ecx.images-amazon.com/images/I/51jhxFibHRL._SL160_.jpg" width="160″][easyazon-image align="none" asin="B002JDM374″ locale="us" height="160″ src="http://ecx.images-amazon.com/images/I/618XVPJo22L._SL160_.jpg" width="160″][easyazon-image align="none" asin="B001C4OUSQ" locale="us" height="160″ src="http://ecx.images-amazon.com/images/I/61wzzx9ZbWL._SL160_.jpg" width="160″][easyazon-image align="none" asin="B005GNWT82″ locale="us" height="160″ src="http://ecx.images-amazon.com/images/I/51hyl2fiKSL._SL160_.jpg" width="160″]

Similar Posts: