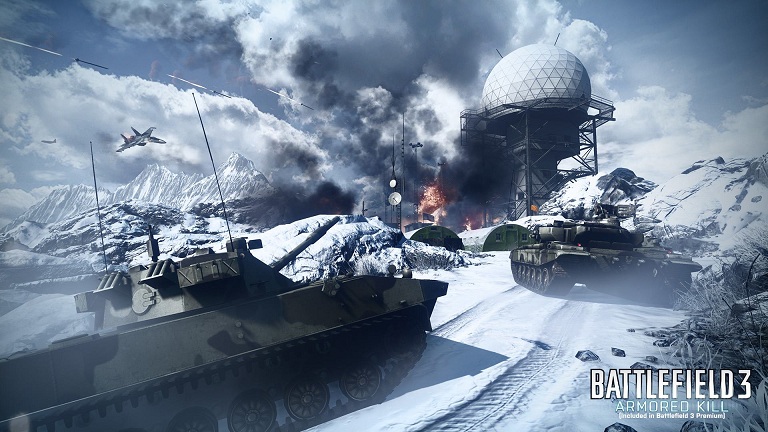 Battlefield 3: Armored Kill is out on all formats today (Xbox 360/PC/PS3). This is the newest expansion from DICE for Battlefield 3.
Taking vehicular mayhem to the next level as only Battlefield can, Battlefield 3: Armored Kill features 5 new drivable vehicles including mobile artillery, tanks, ATV's complete with over 20 vehicle specific unlocks. Players will also have the ability to spawn in the all-new gunship and rain death from above.
Battlefield 3: Armored Kill also introduces a brand new mode to the Battlefield franchise, Tank Superiority, where heavy vehicles clash in order to control key areas of the map.
If you already have Battlefield Premium all you need to do is download the expansion. If not then you need to get the Premium content and then get into the game and play your part in these insane battles.
Check out the launch trailer for the Armored Kill expansion below.
Get your copy of Battlefield 3 Premium at the links below for your system of choice.
[easyazon-image align="none" asin="B008OQTS0U" locale="us" height="160″ src="http://ecx.images-amazon.com/images/I/61V-33gedBL._SL160_.jpg" width="114″][easyazon-image align="none" asin="B008OQTU6C" locale="us" height="160″ src="http://ecx.images-amazon.com/images/I/61wccE%2B5ZPL._SL160_.jpg" width="139″][easyazon-image align="none" asin="B0087STJLS" locale="us" height="160″ src="http://ecx.images-amazon.com/images/I/51em9kTrNLL._SL160_.jpg" width="111″]

Similar Posts: