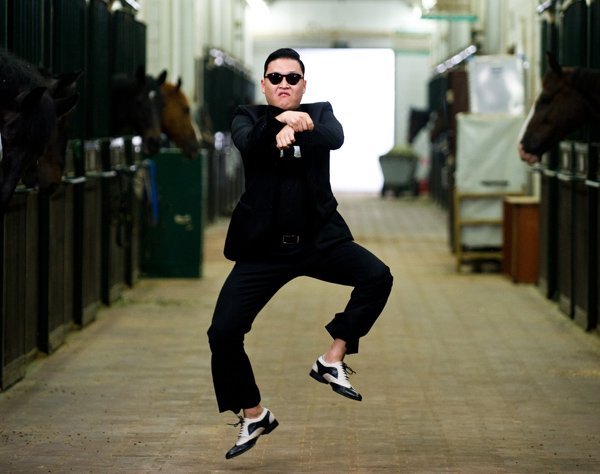 Keep your swag. We've got Gangnam Style.
Gangnam Style is the hit single from South Korean Rapper and Pop Star, PSY. The music video is full of over the top randomnes and explosions and a hit dance and addictive pop sensibility that has helped it become the new "it" thing. Musically it is infectious but the real appeal is in the dance itself and the almost cartoonish vibe that makes up the whole thing. It has spread virally, become a meme, been played at sporting events and clubs causing those in attendance to break out in the dance and just generally found its way into pop culture.
"Gangnam Style" is a Korean language colloquialism that refers to a luxurious lifestyle associated with the Gangnam district, an affluent and trendy area of Seoul. The music video depicts Psy dancing at various locations in Gangnam. The song's theme is about "the perfect girlfriend who knows when to be refined and when to get wild."
PSY has been making music since the early 2000's and while popular in South Korea this is his first break out hit. He is known for his great sense of humor and in 2006 he performed on stage as a famous female K Pop singer.
K Pop is short for Korean Pop and is primarily made up of hip hop, electronic and dance music. It is known for intricate dance routines and very colorful and appealing music videos. As is with many kinds of music it has translated into a popular subculture among teens affecting fashion and style.
Find out more about PSY and Gangam Style at the following Know Your Meme link: http://knowyourmeme.com/memes/gangnam-style and check out the official video and some related videos below.
Gangnam at a Baseball Game
Get your copy of PSY's new album at the link below.
[easyazon-image align="none" asin="B008IXSO7W" locale="us" height="160″ src="http://ecx.images-amazon.com/images/I/61JoQ6vnipL._SL160_.jpg" width="160″]

Similar Posts: