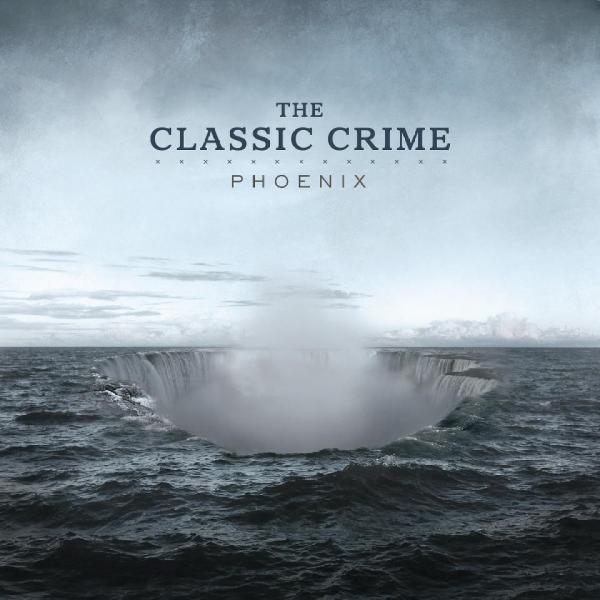 The Classic Crime is Matt MacDonald, Robert Negrin, Alan Clark and Paul Erickson. I've been a fan since their debut album Albatross was released back in 2006. They are a rock band that can do it heavy or lighter, moody or more upbeat. They do not limit themselves to a specific sound or kind of rock and while that may turn off some fans drawn to a particular aspect of a band I find that it gives them a greater catalog of music in the long run along with the ability to provide a more well rounded emotional experience at their concerts.
Phoenix is their newest release and was funded entirely through fan donations via Kickstarter after they parted way with their former label, Tooth and Nail Records. While they needed $30,000 to complete the album they recieved over $80,000 which will go into their tour. They are all about giving back to their fans for the support shown. For the fans are what allow the band to keep doing what they do. They even offered up a private acoustic performance and the possibility of having a custom personal song written about you and your life as part of higher amount pledges made. While no one took advantage of that this time around I think it was very cool of the band to give those options.
Phoenix is another example of the variety that The Classic Crime brings to their songs and the writing of them. While they have differing vibes they all feel a part of something bigger and more cohesive in its vision. At times this album almost feels like a musical or a concept album. When it utilizes the more epic orchestral atmosphere it really sells me on what The Clasic Crime does with that and makes me want more of what that is. One Man Army as their intro, I Will Wait as the directly connected outro along with Heaven and Hell are prime examples. Those three along with You and Me Both are my personal favorites off the album so far. Big bold rock sound, fantastic songwriting and a larger than life quality to them. Heaven and Hell is an especially moving rock opera like piece.
This is to take nothing away from the other tracks on the album. Beautiful Darkside is a cool song that is ever building in its intensity while the words speak to someone in need of something to keep them from the impulses and desires that do more bad than good. Glass Houses is a big song that goes from simpler to sing along very quickly. I love the lyrics and they feel so appropriate with the music provided them. A song about acting in a way that seemed right only to find out how wrong you are. Being made aware of your actions and the consequences of them. There are plenty more songs to hear on this record. These few spoke to me and maybe the others may connect more with you on a different level. Listen and hear.
I'm a big fan of MacDonald's vocals and he is on top of is game here. His more restrained singing sounds passionate and soulful and the raging rock voice that comes out of him is just as all encompassing as ever. It makes what he is saying sound that much more important. Drums are big and I really like the choices made. They feel right for the songs and apply the appropriate movement to them in complimenting and at times providing the ambience. Guitar and Bass work is top knotch and gives each song the richness, fullness and demeanor that sets the tone. Driving and riding when it's called for. Lighter and more hesitant when it's needed. Tasty melodies and chunky rhythms. Good stuff and good job to them. Talent and skill. Passion and will.
I give Phoneix four out of five Marbles for an excellent rock record and fine addition to their discography. Get yours and go see them when they tour near you.
Below are links to a few of the songs off this new album for you to check out.
Below are links to the hard copy and MP3 version of the Phoenix album along with The Classic Crime's prior releases.
[easyazon-image align="none" asin="B008DL47PC" locale="us" height="160″ src="http://ecx.images-amazon.com/images/I/51uoHR7T7eL._SL160_.jpg" width="160″][easyazon-image align="none" asin="B008IO9LIW" locale="us" height="160″ src="http://ecx.images-amazon.com/images/I/51kj%2BUJgzkL._SL160_.jpg" width="160″]
[easyazon-image align="none" asin="B000FEA60U" locale="us" height="160″ src="http://ecx.images-amazon.com/images/I/51E7TEQ7G4L._SL160_.jpg" width="160″][easyazon-image align="none" asin="B001B07KPQ" locale="us" height="160″ src="http://ecx.images-amazon.com/images/I/41FZZcTEkGL._SL160_.jpg" width="160″][easyazon-image align="none" asin="B000W03RN0″ locale="us" height="160″ src="http://ecx.images-amazon.com/images/I/51hMXL2%2BwkL._SL160_.jpg" width="160″][easyazon-image align="none" asin="B0038Y5Z3C" locale="us" height="160″ src="http://ecx.images-amazon.com/images/I/51xWrQkp0lL._SL160_.jpg" width="160″]
Similar Posts: