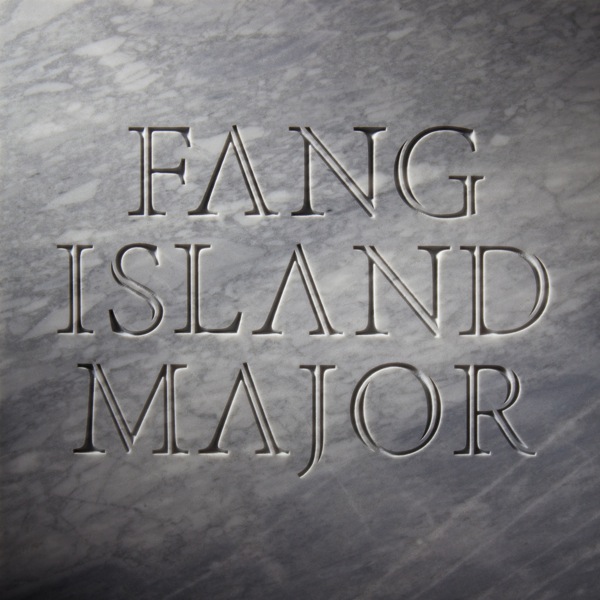 Fang Island are one of those bands that are destined to be "more" but you almost don't want them to be. It's a greedy thought, I know. You like being the one aware of them. You like adding them to a mix cd for a friend only to have that friend ask about the definitive radness that is track 3. You like the songs feeling like they are a little bit yours. You say there name and people wonder who that is and you feel like you know a secret. They are a great and powerful sound that can not be kept hidden and to the great benefit of anyone who hears them the secret is out.
To describe the Fang Island sound is to not do it justice. They blend elements of popular indie rock with progressive rock movements. Some songs are more ambient and orchestral. Others are classically influenced riff rocking quasi epics. They are a little bit post rock and a lotta bit party rock. They are happy music. They are hopeful music and feel good music. They write songs that can be enjoyed by the casual listener and appreciated by those more in the know as to the construction of songs and what goes into that. They are music you can't help but move to. Really the best way of describing it is as the band itself describes their sound…."everyone high-fiving everyone".
Just to give a little back story Fang Island are Jason Bartell, Chris Georges and Marc St. Sauveur. It began as an art project in 2005 with Georges and other original members, Philip Curcuru and Pete Watts while going to Rhode Island School of Design. Soon after Bartell and St. Sauver joined up and got Fang Island all the closer to where it is today. They independently released two EP's in 2007 and 2008 and one full album in 2010. That self titled full album brought on a lot of interest and buzz. With much talent and a high quality album driven by lead single "Daisy", Fang Island showed up to a room full of people, declared it a party and then proceeded to prove that it was indeed.
Major is a fitting and fantastic follow up to their self titled full album debut of 2010. It's everything that album was and more. It's the familiar sound without any plagerizing of themselves. It's grown and developed and focused. It's a puzzle of something pretty and all the pieces are in place.
Here is my short take and small opinion on a few of the songs that make up this album:
Kindergarten – Mellow laid back vocals swim about in a frolicking piano line in what feels like a bridge between the last album and this one. It is what was and what is to come.
Sisterly – A grungy riffing and rolling guitar with a complimenting vocal line keeping pace. It has the feel of picking someone up who is down and dusting them off.
Seek It Out – This single off of Major is a big distorted riff leading into something that looms with largeness and then dominates the space till the end; large and very much in charge.
Asunder – My favorite song on this album is a fun headbanger that feels like it was written to propel people forward towards a finish line. It's an "I can do this" kind of song. 5 minutes and 16 seconds of inspiration.
Dooney Rock – An Irish influenced rocker that starts out feeling a little post-rockish turns into a helluva jig and makes it exit to the sound of some pretty darn cool 80's nuance and shredding.
Chompers – Pounding drums lead this song on a merry chase. Feeling both a little punkish and somewhat 90's rock inspired, Chompers is a mover that only takes a slight breather so it can up and do it again.
Chime Out – This is the most restrained song on the album. Lines like "I belong to you and you alone. You got me all wrong" coupled with the staccato guitar and vocal pairing really drive in the promise and pleading of this tune.
If you like what you've read that I wrote then give them a go. If you like what they play that you hear then share it with your friends. Hell…..share it with your enemies and maybe it will make them feel better and stop being so enemy like. That's the kind of power Fang Island has. They are musical medicine and it would be wrong of me to try and hide them away.
Fang Island – Major gets 4 Marbles from Brian and Fizmarble.
Below are links to a few of the songs off of Major along with some of the previous Fang Island gems:
Fang Island – Dream of Dreams
Visit them at their official web-site and check to see if they are touring near you:http://fangisland.com/
Head on over to their Facebook page and like them. they are very likeable: https://www.facebook.com/fangisland
Below are links to the new album Major along with the rest of the Fang Island discography:
[easyazon-image align="none" asin="B0089VHTBU" locale="us" height="160″ src="http://ecx.images-amazon.com/images/I/51HiSfWonsL._SL160_.jpg" width="160″][easyazon-image align="none" asin="B0038ECT7M" locale="us" height="160″ src="http://ecx.images-amazon.com/images/I/51YQVmwsBCL._SL160_.jpg" width="160″][easyazon-image align="none" asin="B003GMMDBI" locale="us" height="160″ src="http://ecx.images-amazon.com/images/I/51UL8Img7OL._SL160_.jpg" width="160″][easyazon-image align="none" asin="B0026TKJE0″ locale="us" height="160″ src="http://ecx.images-amazon.com/images/I/61p1AnoUxBL._SL160_.jpg" width="160″][easyazon-image align="none" asin="B0026TKKCG" locale="us" height="160″ src="http://ecx.images-amazon.com/images/I/61Hx6HVfC7L._SL160_.jpg" width="160″]

Similar Posts: