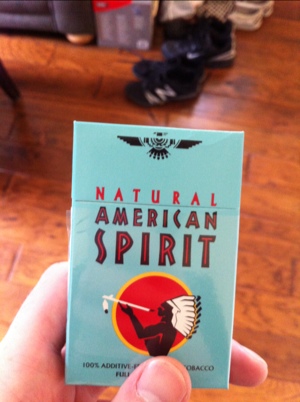 The picture up top is of my last pack of cigarettes. It's also probably my 16th last pack of cigarettes. Why am I so sure that this really is my last box? Because I said so. I've quit smoking before with relative ease, but I always started again because I like smoking cigarettes. This is my go at getting it right, my run at truly quitting, my gift to future Adam.
Why smoke? It's awesome! That's why. I smoke for the very simple reason that it gives me a mental and physical release. Smoking is very relaxing and time consuming. If I could suffer zero health complications from tobacco use then I would never, ever stop. Ever. EVER!
Why did you start smoking? Honestly? I'm not sure why I started, I was 17 years old (now 31) and none of my friends did. I cannot for all the tobacco in the southern fields think of why I started. I did though, and it's been 14, almost 15 years of relaxing walks, early morning wake ups and late nights under the stars with my best buddy nicotine. Would you stay friends with a someone who was poisoning you with every good hang out session? Nope. And that brings us to…
Why do I want to quit smoking? The reasons are pretty simple: I do not want to lose my tongue or larynx, I do not care to have any more plaque in my arteries please, I want my lung capacity to go back up for my jogging habit and the most important reason: the longer I stay alive, the longer I get to be married to my amazingly awesome, sweet, smart, creative and drop-dead gorgeous wife Stephanie.
Stephanie, or Bunny as I call her, is the best reason to change my habits. I am my own man who doesn't desire to suffer the pain of cancer and heart disease, though knowing that I have someone to live for, to go the distance with, is THE motivating factor. I will use my future with Stephanie to drive me to quit smoking and with her support I will stop this time. Seriously, how bored would she be over the next 50+ years if I wasn't there to pester her? Who would she walk to the beach with? Who would watch 10 episodes of Scrubs in a row with her? Would lay on the couch like a dead fish and whine for ice cream if I'm not there?
Well the motivation and determination are in place, now it's time for the execution. I have 14 cigarettes left as I write this, a very fitting number. One for each year of smoking. This has been the first in a series of articles on my journey to a smoke free life. As I go through the quitting process I'll explain the ups, downs, methods and mistakes I pick up along the way.

Similar Posts: