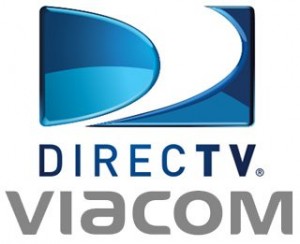 DirecTV Vs. Viacom
If you own DirecTV you may have noticed that a number of your channels have gone the way of the Dodo. Recently a contract dispute between DirecTV and the program provider Viacom resulted in the dropping of 26 channels as of July 10th.
Among the channels no longer being shown are Nickelodeon, MTV, Comedy Central, BET, VH1, CMT, Spike TV, TV Land. This leaves nearly 20 million DirecTV subscribers without their Spongebob, Ultimate Fighter and depressing that people are like this reality tv shows on a station that used to be known for its music videos.
A number of sites are urging customers to call DirecTV at 800-531-5000 or visit www.whendirectvdrops.com to voice their complaints and demand the return of the channels for customers sake. Most likely this is just a hiccup and an agreement will be made to see the return of the various station but for now talks are at a standstill.
Most everybody seems to have itout for DirecTV in this instance but I can't help but wonder how much of this is Viacom trying to use the leverage of its many stations to get much more for the same product. I'm not saying that is what it is but you do have to look at both sides and without all the information a lot of this is only conjecture.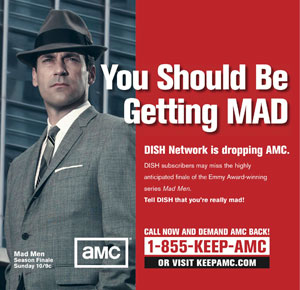 Dish Network Vs. AMC (American Movie Classics)
and the other bout on our fight card is………
AMC and The Dish Network are also having their own negotiation problems. On Saturday Dish dropped AMC and a bundle of its associated channels when the contract between them expired. They had been trying to get a new contract worked out before the expiration but similar to the DirecTV/Viacom issues dotten lines were not signed and hands went unshook.
Primarily the problem The Dish Network is having is that they want to show AMC without having to also purchase the rights to the lower rated IFC channel and We TV. AMC is a package deal with those other two channels and from a business side they want to be able to still get air time for them while Dish does not see it as the good investment.
AMC was the station to tune in to in order to see "classic" movies. As of 2002 it changed its formet to include more modern film fare along with documentaries. It was in 2007 though that AMC turned to original programming and began showing Mad Men. Soon after it was Breaking Bad followed by Rubicon(cancelled), The Walking Dead, The Killing and Hell on Wheels. Fans of these programs are upset that they may not get to see them as a result of the disagreement. Especially those of Breaking Bad as the fifth season is scheduled to begin on Sunday, July 15th.
Once again chances are the two companies will find common ground and make something work. Until that happens though AMC will be streaming the premiere of Breaking Bad online for free to those wanting to see it. All you need to do is go to www.amctv.com as of this Friday and register to stream the program which will air this Sunday at 10PM EST. So, at least there is that.
Just to clarify the AMC/Dish thing while comparible is completely unrelated to the DirecTV/Viacom issue.

Similar Posts: