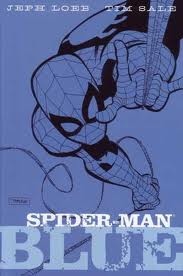 This might be me showing up late to the party with this review, but we'll just consider this a tenth anniversary celebration since it's original run was from July 2002-April 2003.
Tim Sale and Jeff Loeb have done quite a few amazing books together (Superman For All Seasons, Daredevil Yellow, Hulk Gray) and this is one of the strongest in their stable.
Spider-Man Blue is a recount of the time period when Peter Parker met and fell in love with Gwen Stacy through his dictations into an old tape recorder of his Uncle Ben's while sitting in his attic on Valentine's day.
Years after Gwen's death Peter still feels longing for his first love and guilt at his part in her death. While the story never talks about how she died (The Amazing Spider-Man #121 will show you the events of that night), it does however show Spider-Man leave a rose at site of her death.
I felt drawn into the telling of Spidey's olden days and without giving away too much, you will get to see a classic rogue's gallery give the young Mr. Parker more than his fair share of troubles.
In addition to the baddies, Peter's old friends, family and co-workers make an appearance as well as a great love triangle with the introduction of Mary Jane Watson. What is a superhero/college student to do?
Loeb's writing is as clear as ever in its mood and tone, I am a great admirer of his work and this story shows off some of his more reliable and stronger skills with a narrative.
Tim Sale's art has a tendency to be polarizing among, at least my group, of comic fans. I've always thought of his style as a romancing of the comic and advertising aesthetic of the 40's and 50's. When I look at Tim's art I'm envious of his ability to weave simplicity and depth. He is the best person to illustrate Jeff's stories if my dollar is on the table, a geeky Lennon and McCartney if you will.
With The Amazing Spider-Man rebooting the film franchise this summer, you would do very well by yourself to check out or re-visit this look at the young love of Peter and Gwen.
Buy Spider-Man: Blue here.
[easyazon-image align="none" asin="0785110712″ locale="us" height="160″ src="http://ecx.images-amazon.com/images/I/41D2Q18JQPL._SL160_.jpg" width="106″]

Similar Posts: